The world of music production has seen significant advances in the past three decades. Today, equipment like interfaces, microphones, and MIDI controllers are not only more affordable but also maintain impressive quality. Simultaneously, as computing power has surged, the software used in music creation has matured.
With just a web browser, mouse, and an internet connection, anyone can now use an online MIDI editor to produce music. But what exactly is an online MIDI editor?
Understanding Online MIDI Editors
Essentially, an online MIDI editor is a piano roll-style editor available via a web browser. This piano roll format is commonly used by Digital Audio Workstations (DAWs) like Logic Pro and Pro Tools to display MIDI data along with other parameters, including velocity and pitch. Users can input notes onto the piano roll through a mouse or play them using a MIDI keyboard controller.
After entering the MIDI data, users can modify pitch, note duration, velocity, and other attributes. Some editors even allow edits for pitch bends, modulation wheel movements, sustain pedal actions, and more.
Though many online MIDI editors have subscription models, most offer some form of free version. Here's our ranking of the top five editors based on their free offerings: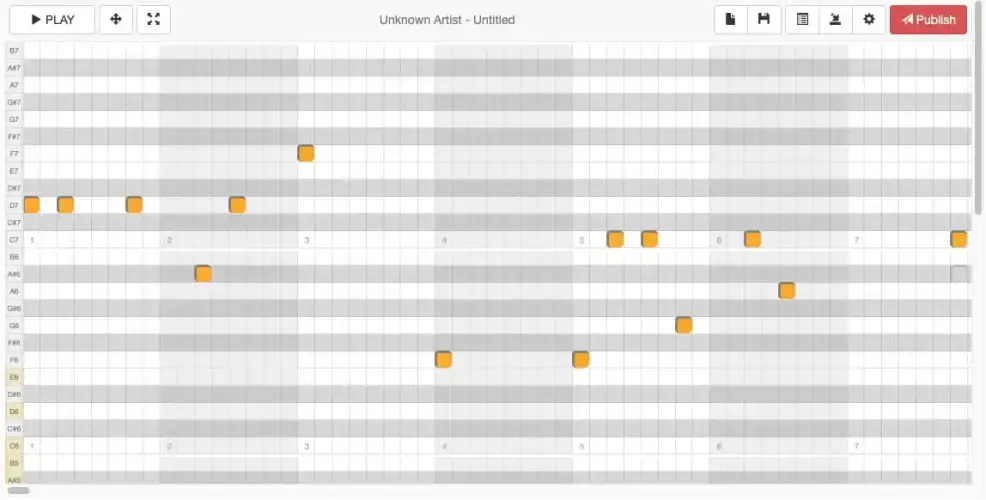 Pricing: Free
Features:
Extensive MIDI file support, both for import and export.

Advanced editing tools including playback start offset, insert, delete bars, and capability to shift, expand, or narrow notes.

Editing history feature to easily revert or switch between melody versions.

MIDI file import preview ensures visibility of imported tracks before finalizing.

Multiple export options: PDF, MIDI, MP3, DXF, and SoundTrap.

Full-screen edit mode for an enhanced, focused editing experience.

Specialized melody requests page for collaborative assistance.
The Music Box Maniac MIDI Editor emerges as a unique online tool geared towards enthusiasts of custom music box melodies. It's designed to bridge the gap between traditional music software and the distinct requirements of music box melodies but also functions as a quality online MIDI editor. Users can effortlessly import MIDI files and gain insights through a preview before finalizing their tunes. The editor, much like DAWs, offers a suite of sophisticated editing tools – from manipulating note scales specifically tailored for DIY paper strip music boxes to adjusting the playback start. Moreover, the ability to insert and delete bars, alongside shifting or resizing notes, empowers users with complete creative freedom.
An invaluable feature, the editing history, ensures you never lose your progress. When it's time to take your melody to the world, the platform offers varied export options, ensuring compatibility with a broad range of devices and software. The full-screen mode augments the editing experience, minimizing distractions. And for those seeking collaborative insights or looking to assist peers, the melody requests page stands ready. With its comprehensive features, the Music Box Maniac MIDI Editor is a must-try for every MIDI music creator.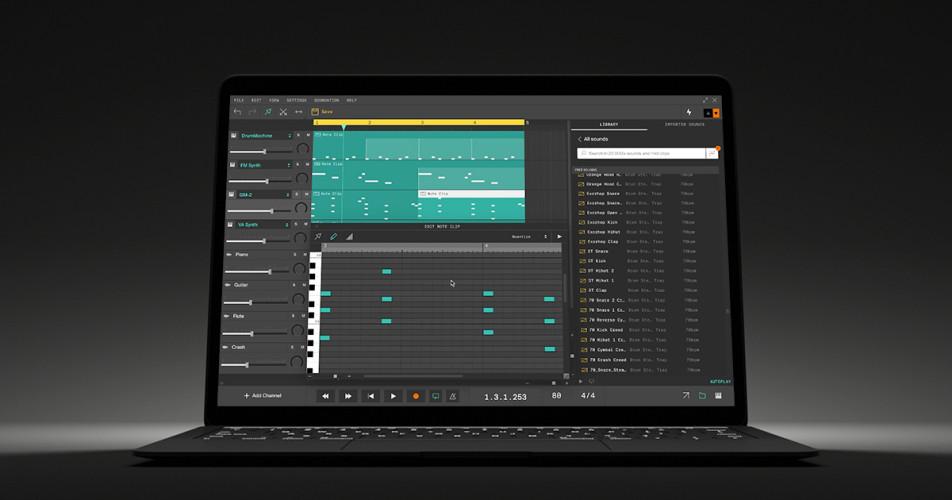 Pricing: Free version available; paid tiers start at $4.99/month.
Features:
Focused on collaboration; easy project sharing.

Comes with free virtual instruments.

Allows MIDI controller input with adjustable latency settings.

Advanced virtual instrument parameter controls.
Soundation prioritizes collaboration, making project sharing seamless and inviting others to contribute to your song. The free tier supports collaboration with a limited user count, expanded with a subscription.In Soundation's DAW, tracks are "channels," with the Instrument channel being the MIDI track. Multiple tracks can be handled and audio imported. A range of free virtual instruments is available. Notes can be input via a mouse or MIDI controller, though initial latency issues with the controller can be mitigated by adjusting the buffer size. Post-performance, you can edit notes' pitch, length, and velocity.
However, recording or manually inputting pitch and mod wheel movements isn't supported. Quantizing is available to perfect timing.The virtual instruments provide comprehensive automation options, but manual edits are restricted to straight lines, limiting expression. A significant help section is necessary since many features aren't intuitively presented. MIDI import/export is straightforward, with song export in lo-rez MP3 on the free tier.Soundation's detailed control over instrument parameters and an intuitive MIDI editor rank it high among similar platforms.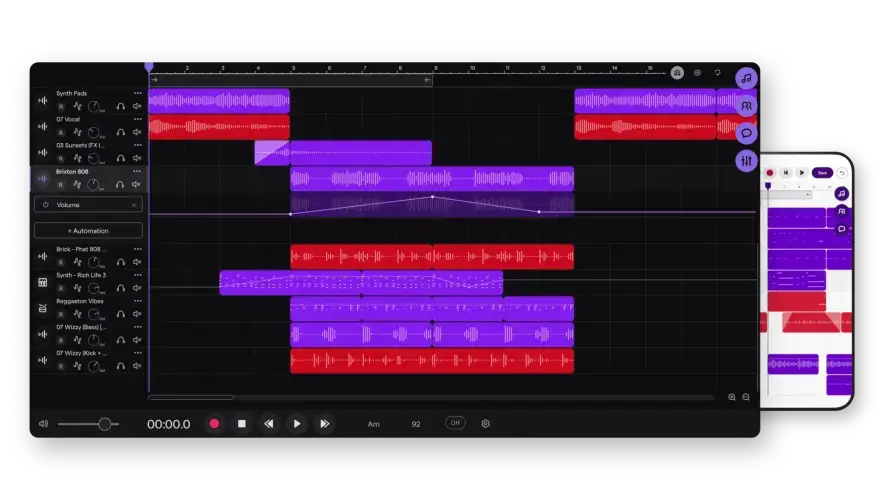 Pricing: Free version available; paid tiers start at $9.99/month.
Features:
Versatile DAW with a piano roll MIDI editor.

Allows multi-track MIDI and audio imports.

Limited pitch and mod wheel functionalities in the free version.
Soundtrap offers a limited free DAW with an upgradeable subscription for extra features, including a piano roll MIDI editor. MIDI can be inputted via mouse or a MIDI controller after brief setup, with intuitive editing for pitch, duration, velocity, and quantizing.Being a DAW, Soundtrap enables multi-track MIDI using its virtual instruments, which aids in layering compositions. Audio import is available for richer songs.
However, there are shortcomings: pitch wheel data isn't captured, and the MOD wheel's functionality is fixed per instrument without reassignment options. While MOD wheel edits are possible, accessing this is not user-friendly.MIDI file imports are supported, with virtual instrument assignment for each part. Yet, only subscribers can export tracks as MIDI; the free version restricts to MP3 exports.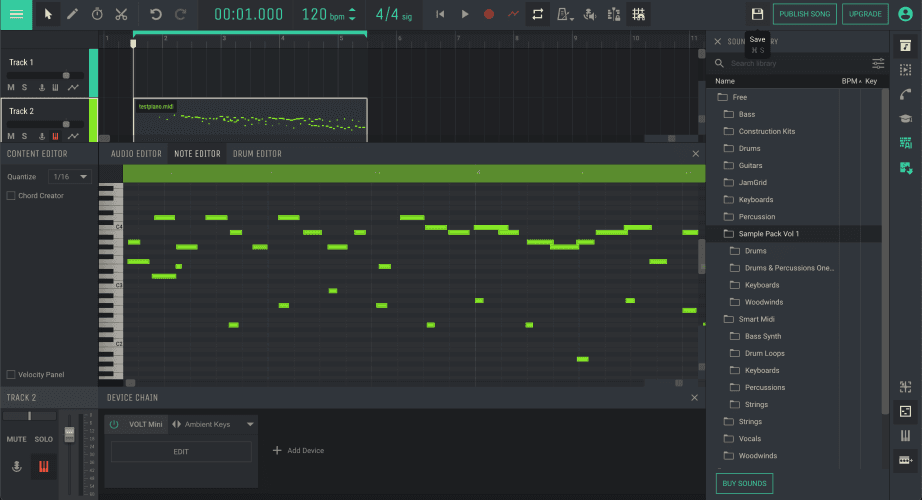 Pricing: Free version available; paid tiers start at $4.99/month.
Features:
Instant MIDI controller detection.

Limited MIDI editing interface.

Ability to layer MIDI tracks with virtual instruments and audio samples.
Amped Studio offers a free online MIDI editor, albeit with notable constraints relative to its counterparts.The piano roll editor allows mouse input or live MIDI controller play. On the plus side, the platform auto-detects the controller without the need to sig into a settings menu.
However, a significant latency between key presses and sound makes it difficult to use. MIDI editing is a little odd: you can make note adjustments, but velocity is laid out in a way that it's small on the eyes and difficult to make edits. Pitch and Mod wheel inputs aren't registered, and there doesn't appear to be a way to add these with the mouse either.Integrated within a DAW, Amped Studio facilitates layering with a range of virtual instruments and samples. While MIDI imports are straightforward, the free version limits export options to MP3 formats or direct Amped website publishing.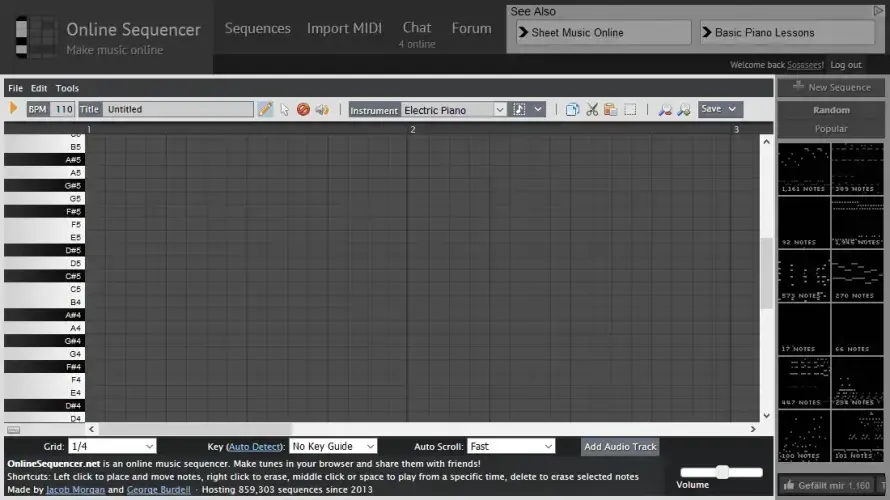 Pricing: Free.
Features:
Suitable for basic MIDI tasks.

Features like transposition and key detection.

Supports MIDI file imports with basic virtual instrument options.
This is arguably the most rudimentary option I looked at, marked by several restrictions.Notes can be input via mouse or MIDI controller. Yet, the scope for editing, beyond pitch and duration, is limited. It records pitch wheel actions (but not mod wheel), without subsequent edit capability. Only one MIDI and one audio track are available.
However, this is only for transcription and won't be saved with the song. Online Sequencer does offer some noteworthy global tools, like key detection, transposition, and major-minor key switches. There is a quantizing feature but you have to turn it on before before playing a part with a MIDI controller; you cannot make post-performance adjustments apart from individual note edits. MIDI imports are smooth, supported by basic virtual instruments. Several export options exist, including WAV, MP3, and MIDI.Due to its lack of editing tools, inability to store multiple parts or save imported audio, its utility is confined to quick drafts, rather than comprehensive compositions.
Available to Staccato members (both free and paid), Staccato boasts a MIDI editor embedded within its platform. The free version has some editing restrictions, but subscribers receive full capabilities starting at $6.49/month. Unique AI tools in Staccato's editor can suggest creative additions to your music. The editor is also user-friendly, supporting multi-track projects and a range of virtual instruments. Exporting to other programs is seamless.
In conclusion, the evolution of online MIDI editors in 2023 has empowered creators, making music production more accessible than ever. Whether you're a newbie or a pro, there's a tool out there that can enhance your musical journey.
---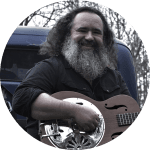 Kevin Daoust - Guitarist, Guitar Educator, Writer
Kevin Daoust is a guitarist, guitar educator, and writer based in Gatineau, Quebec, Canada.
When not tracking guitars for artists around the world, or writing music-related articles around the internet, he can be seen on stage with Accordion-Funk legends Hey, Wow, the acoustic duo Chanté et Kev, the funky Sh-Boom, as well as a hired gun guitarist around Quebec and Ontario. He holds a Bachelor of Music in Guitar Performance from Carleton University in Ottawa, Ontario, Canada.